Recycling
Disposing of an old appliance in a safe and environmentally friendly way can be a real challenge. If you are replacing an old appliance, the last thing you want is your old one still in the house, and sometimes even moving it can be a problem. That's where we can help.
When we deliver a new appliance, our home delivery team can take away your old appliance and ensure it is properly recycled. If this options is available, it will be shown once you Add to Basket and enter your postcode details.
Alternatively, you can return or send your old electrical appliance to Sonic Direct, Ingleby Road, Bradford, BD8 9AN; please note, you must pay for any costs incurred in returning your old appliance to us.
If you have purchased from our store, we also offer free in-store take back of your old electrical items on a like-fo-like basis. We can only accept items that fulfil the same function as the new item being purchased. You must return your old item to our store within a reasonable period of time following your new purchase.
We will make sure your old appliance is disposed of in an environmentally friendly way and in accordance with our obligations under the Waste Electrical and Electronic Equipment Regulations 2006.
Please note:
1. If you are recycling a product that holds personal data (e.g. laptop, PC etc) you will need to have removed the information from your old product prior to us receiving it as we will not carry out any data removal.
2. If you have purchased an installation or recycle service then please ensure your old appliance is disconnected prior to delivery. If you have a refrigeration product it must be fully defrosted and free of water. Where appropriate, your appliance should be disconnected by a qualified engineer e.g. only Gas Safe Register approved engineers should disconnect gas and dual fuel cookers.
3. This service only applies to like-for-like products.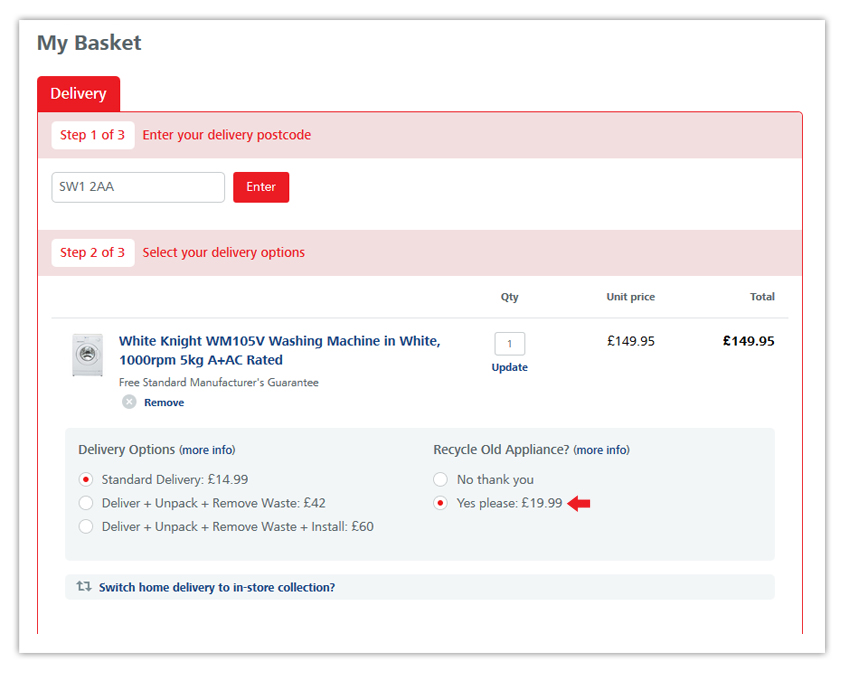 Local Recycling Services
If you have a small portable item to recycle or can move your old appliance yourself, you should first make sure that the item can be recycled. To do this, just look for the crossed-our wheelie bin symbol on the packaging or product. This means that you should either send the product to be repaired and reused or take it to your local recycling facility. The saff there will make sure everything is disposed of responsibly and in a way that does not affect the environment. There is no charge for this service.
Recycling your old batteries
Sonic are now offering a take back scheme for all portable waste batteries. Just return them to the Sonic Megastore (Bradford) and we'll do the rest. Alternatively, you can find your local waste portable battery recycling facility by clicking here.
Examples of portable batteries are AA or AAA batteries and batteries used in mobile phones or laptops. Please note that we are unable to accept industrial and automotive batteries.
Look for the Wheelie Bin logo
All new electrical and electronic equipment we sell can be recycled. You can tell because our products include a 'crossed out wheeled bin symbol' like this: